Whales, the most enormous creatures on the planet, are naturally migratory. During the summer months, they feed in cold northern waters, while in winter months they head south to warm weather breeding grounds, often traveling enormous distances to do so. The longest whale migration ever tracked was noted in 2011, when a gray whale dubbed Varvara traveled a round trip from Sakhalin Island in Russia to Cabo San Lucas, Mexico, covering more than 14,000 miles in total. Because Los Cabos, home to cape cities Cabo San Lucas and San José del Cabo, is more than just a resort destination: it's a major wintertime destination for several species of whale. 
When is whale watching season in Los Cabos? 
Whale watching season in Los Cabos officially runs from December 15 to April 15; this is the timeframe during which tour operators can legally offer whale watching excursions. The whales arrive whenever they like, of course, and the first sightings often take place in early to mid-November. 
The absolute peak of the season, however, occurs from January to March. So, if you're planning a trip and whale watching is a preferred activity, this is the optimal time to visit. Local tour operators can't guarantee whale sightings, but this three-month period is when they are most likely to be frequent and spectacular. 
Which whale species are the most commonly sighted in Los Cabos? 
The Baja California peninsula generally and Los Cabos specifically are premier breeding destinations for many varieties of whales. Eight major whale species can be spotted in Los Cabos each winter, although not all breed within the municipality's waters. Gray whales like Varvara, for instance, typically breed in Baja California Sur's coastal areas like Magdalena Bay and the San Ignacio and Ojo de Liebre lagoons. But gray whales, just like blue, bryde, fin, humpback, minke, orca and sei whales, can still be seen enjoying the winter waters of Los Cabos, something they have in common with U.S. and Canadian snowbirds.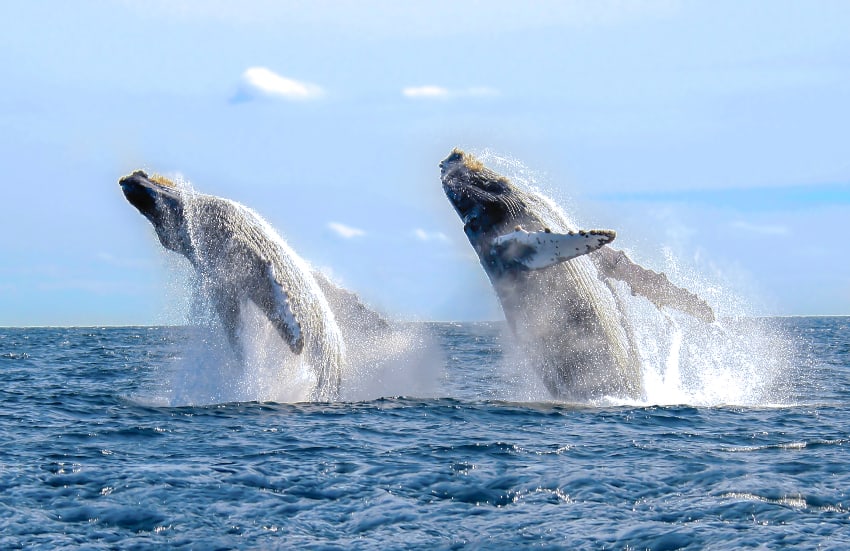 Humpbacks in particular are the stars of whale watching season in Los Cabos. Not only are they the most commonly seen whale species in local waters, but these massive cetaceans – which can weigh up to 80,000 pounds – love to breach, lifting their bodies out of the water and splashing down with magnificent effect. Amazingly, this maneuver is just one of several photogenic behaviors for which humpbacks are famous. Spyhopping, for example, is another humpback specialty: The whales casually lift their heads out of the water to cast a curious eye on the surroundings, watching those who are watching them. There's also tail slapping, also known as lob tailing, in which humpbacks smack their enormous flukes, 18 feet wide in some adults, against the ocean surface. 
Humpbacks are also noted for their haunting songs. No one knows why they "sing" these songs, which, in essence, are complex sound patterns that can be used to communicate within their pod – yes, a language. During the breeding season, for example, males sing an identical mating song to courted females. These songs, in fact, likely helped to save the species from extinction when a 1970 album produced by American bioacoustician Roger Payne, "Songs of the Humpback Whale," became an unexpected hit. Humpback numbers have rebounded significantly since, but Mexico's humpback population is still listed as "threatened" by the U.S. National Oceanic and Atmospheric Administration. 
What are the legal protections for whales in Mexico? 
One of the most commonly told jokes by local tour operators is that the whales born in Mexico are Mexican citizens. That's not true, of course, but whales do enjoy legal protections while they're within national waters. The proximity to whales with which boats can bring their passengers, for example, is regulated by law. Boats with a whale watching permit, a category that includes almost every commercial vessel in Los Cabos, are allowed – depending on their size – to get as close as 60 to 80 meters (approximately 200 to 250 feet). 
The safety of passengers is taken into account with these strictures. But so, too, is the safety of the whales. For this reason, tour operators are also cautioned against any activity that might negatively impact the whales. This includes accelerating too fast in their vicinity, breaking up large groups, or following them for too long. 
Are tours the only way to see whales?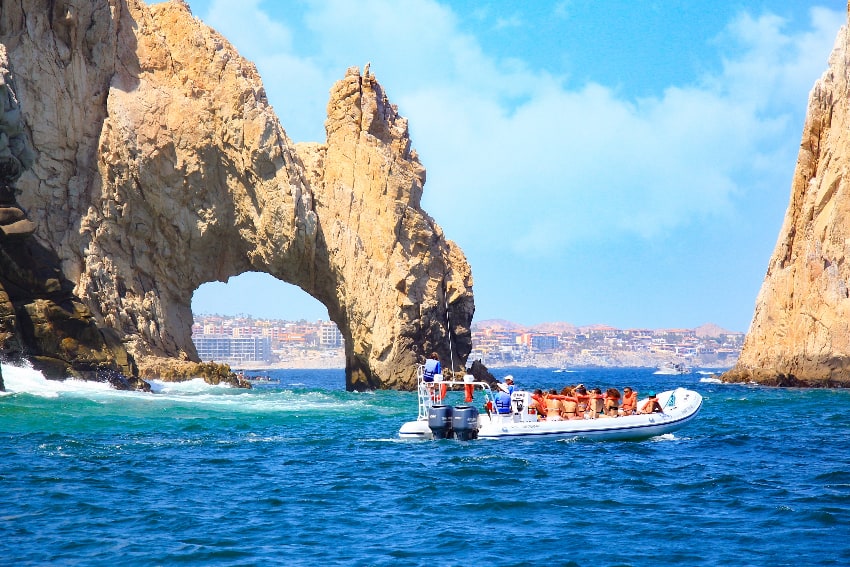 Whales can be spotted from virtually every coastal vantage in Los Cabos, including beaches, resorts, restaurants, and golf courses. These sightings are apt to be from a lengthy distance, however, and tend to be short-lived. Tours are recommended for those who want to see whales up close.
In most cases, the smaller and faster the boat, the closer you're likely to get to whales and the longer you can stay within photo-taking distance. But visitors to Los Cabos can choose from a variety of boat types that offer whale watching excursions, from zippy Zodiacs and rigid inflatables to catamarans and even luxury yachts. Each tour type offers a different experience, and morning, afternoon and sunset tours are commonly available. Some boats focus on getting close to whales, while others prioritize comfort, food and drink options and a smooth ride. Most depart from the Cabo San Lucas Marina. 
Costs vary, naturally, depending on the type of tour selected. Small boat tours are typically less than $100 per person – often with lower rates for kids – although more amenity-laden outings can boast prices north of that mark. Sailboat and luxury yacht tours, by contrast, are more expensive, often prohibitively so in the latter instance. 
What tour types offer the best experience? 
The answer to this question depends on personal preference. There are only a few tours in Los Cabos, however, that are equipped with hydrophones, an absolute necessity for those who'd not only like to see the whales but hear their distinctive songs as well. 
Zodiac boats, which are small, maneuverable and suited to quick changes in direction, generally offer the best chance to get up close to whales. These 24-foot open-air inflatables can accommodate up to 15 guests per tour.
Chris Sands is the Cabo San Lucas local expert for the USA Today travel website 10 Best, writer of Fodor's Los Cabos travel guidebook, and a contributor to numerous websites and publications, including Tasting Table, Marriott Bonvoy Traveler, Forbes Travel Guide, Porthole Cruise, Cabo Living and Mexico News Daily. His specialty is travel-related content and lifestyle features focused on food, wine and golf.