Thanksgiving has always been my favorite holiday. I enjoy the feast with loved ones, without the stress of gifts. Historical significance aside, it's a beautiful tradition promoting gratitude and good food.
Thanksgiving can be celebrated anywhere, including Mexico. Instead of relying on unfamiliar expat groups or American-owned hotels for your meal, why not create your own? With a little imagination and local ingredients, you can host a successful Thanksgiving with a Mexican flair!
Here are 10 of the most popular Thanksgiving dishes in the U.S. and ways to make them more Mexican. This list is not exhaustive. Leave your ideas in the comments below!
Turkey 
The centerpiece. The staple. The bird is the star of the Thanksgiving show. 
How to do it: There are several ways to make this dish more Mexican.
Marinate the bird (or tofurky) overnight in a blend of spices including chili powder, cumin, and oregano, and vinegar or citrus.
Joy Hernandez of

ArcaTierra

suggests

pavo en escabeche

, a Yucatecan dish of shredded grilled turkey in a stew (

recado

) of pickled onions, habanero, and lots of black pepper. The

recipe

can vary, but most include white vinegar, black peppercorns, cinnamon, oregano, cumin, garlic, and allspice berries.

Make a chili rub with ancho and guajillo chiles. Blend with garlic, honey, orange juice and zest, peppercorns, salt. Pour the mixture over the turkey before roasting.
Gravy
Gravy, juice expelled from cooked turkey thickened with cornstarch and flavored with broth, can be replaced altogether with the most Mexican sauce of them all: mole. 
How to do it: Making mole sauce can be time-consuming, especially for the novice Mexican chef-to-be. It combines a long list of spices, nuts, and dried fruits. If you're up for the challenge, there are plenty of recipes online. If you're not, simply buy mole paste. Liquify with your choice of broth and any flavoring you deem necessary. 
Stuffing
Stuffing is generally made with cubed white bread, celery, carrot, garlic, and herbs. 
How to do it: For a Mexican twist, swap traditional ingredients with regional ones. Chop and fry diced jalapenos, carrot, garlic, and celery. Add crumbled chorizo or corn kernels to the mix. Once it's nice and sizzled, add stock, cubed cornbread, and cilantro. Bake and garnish with cilantro.
Mashed Potatoes
This classic side dish gets its flavor from copious helpings of butter and cream. 
How to do it: To Mexify, use butter and either evaporated milk or buttermilk. Blend with cooked garlic, salt, and pepper until you've achieved your desired consistency. Roast a few poblano peppers and chop into small pieces. Fold peppers into the potatoes, along with a generous serving of cotija cheese. Finish with a squeeze of fresh lime juice.
Sweet Potatoes
Sweet potatoes, candied or as a casserole, often include a topping of marshmallows or pecans, brown sugar and cinnamon. 
How to do it: Keep the sugar and cinnamon and add a sprinkle of chili powder for a hint of heat. Sprinkle a thin layer of crushed tortilla chips instead of (or alongside) pecans for crunch. Looking for something quick? Buy ready-made camotes from your neighborhood vendor and serve warm with parsley on top. No one will be the wiser.
Cranberry Sauce
An essential side that adds a much needed tang to Thanksgiving's plethora of heavy, often fatty, dishes. 
How to do it: All you need to do to make this crowd-pleaser in the estilo mexicano is add a few dried Chipotle chilis while cooking the berries, sugar, and your choice of spices.
Green Bean Casserole
Green bean casserole is made with green beans, cream of mushroom soup, and crispy fried onions. News to me, as my family opted for steamed beans with sliced almonds and dried cranberries. Boy did I miss out. But I digress. 
How to do it: To enjoy this casserole Mexican-style, saute onions, garlic, green beans, jalapeños, and cumin, in that order. Steam for a few minutes before adding chopped tomatoes. When ready, top with queso fresco. Garnish with fresh cilantro and crushed totopos (tortilla chips).
Dinner Rolls
You could replace the rolls with tortillas, or you could avoid the inevitable backlash by adding some kick.
How to do it: Fold in shredded Oaxacan cheese and diced jalapenos to the dough before baking. If you're not making rolls from scratch, and who can blame you, serve molletes instead! Cut the buns in half, add some butter, and toast until crispy. Add a layer of refried beans and top with Oaxacan cheese.
Cornbread
My family never served cornbread at Thanksgiving, and for that, I'm forever ungrateful. Now that I'm in charge of the menu, I'll be serving Mexican-style cornbread.
How to do it: Add a touch of cayenne to the dough before baking. For punch, purchase butter, local honey and jalapeños – or if you like it spicy, some habaneros. Whip the butter with a little water. Dice the peppers, seeds removed, and mix into butter until peppers are evenly distributed. Add honey to taste. Make vegan using avocado instead of butter. 
Pumpkin Pie
Pumpkin pie is essential. It's basically the turkey of the dessert table. 
How to do it: Oh let me count the ways! There are many options. Here are three.
Serve

Calabaza en Tacha

, a Day of the Dead dish. The recipe is simple: remove seeds and cut a fresh pumpkin into bitesized pieces. Boil with water, piloncillo, cinnamon sticks and orange zest. Once the pumpkin is soft, remove and further boil the liquid until it's thick enough to drizzle on the pumpkin. Serve with ice cream. 

Make Mexican pumpkin pie. Layer pie crust with melted Mexican chocolate. For the pumpkin filling, mix in doses of cayenne pepper, chili powder, and cinnamon. Bake. 

If this feels like too much work (just typing it overwhelms me), simply

buy

a pie and offer homemade Mexican hot chocolate. With or without a splash of tequila. Don't forget your molinillo, one of your

10 essential Mexican utensils

.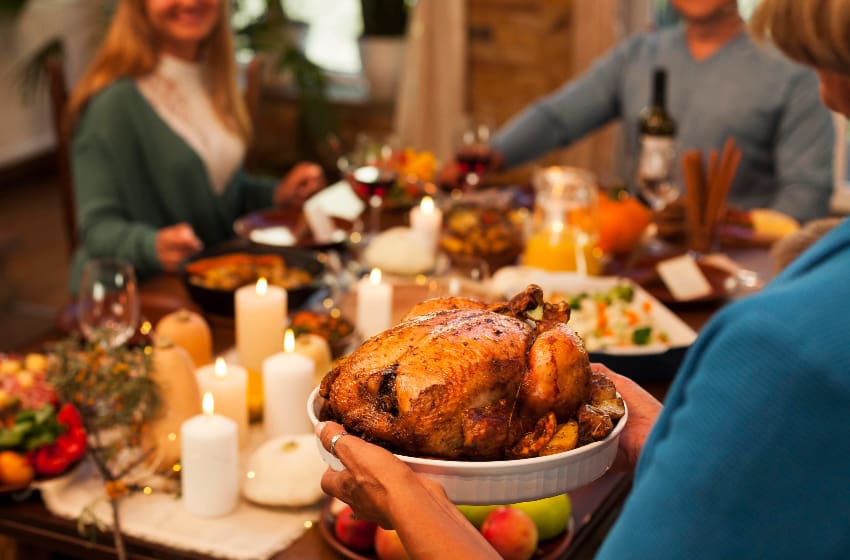 Finally, one for the fancy cooks out there. Puebla-based Chef Abraham Santos suggests his preferred Thanksgiving meal: a Oaxacan-inspired combination of turkey, mashed potatoes, and cranberries. Start with "a good portion of roasted turkey" marinated in hierba de conejo (a quelite grown in Oaxaca's Central Valley, not a rabbit reduction), garlic, pennyroyal, and gravy. As the sauce simmers, add pickled cranberries and a few of Santos's favorite Oaxacan chilies – chilhuacle negros. Add a touch of pineapple vinegar and serve over Tehuantepec-style mashed potatoes, baked with vinegar and mustard over low heat for just under 3 hours. 
When "everyone at the table leaves their plates clean, that is the purest example of gratitude." 
It's now time to focus on cozy, seasonal decor. Mexican marigolds blend nicely into your Mexican Thanksgiving. String some papel picado around your dining area in fall-themed colors. Set the table with a bright zarape table runner, mini pumpkins and squash, fresh eucalyptus sprigs and Talavera dishware. Prepare a playlist of Mexican classics. 
Most importantly, have plenty of Mexican wine, mezcal, and agua fresca handy to get the party started.
*A note for vegans: Most dairy ingredients can be replaced with nut-based products. Avocado can serve as a substitute for cheese toppings. 
¡Buen provecho!
Bethany Platanella is a travel planner and lifestyle writer based in Mexico City. She lives for the dopamine hit that comes directly after booking a plane ticket, exploring local markets, practicing yoga and munching on fresh tortillas. Sign up to receive her Sunday Love Letters to your inbox, peruse her blog, or follow her on Instagram.