Summer usually brings rain in Mexico, and lots of it in some places (like where I live). Because Mazatlán is an old town, the streets and drains in its Centro Histórico struggle mightily with these tropical deluges. After a big storm, depending on where you live or want to go, it can be challenging to get around; not to speak of dealing with a house that's suddenly full of water. 
That happened to me a few months ago, when a storm blew in with what authorities would later say was about five inches of rain in three hours. I heard it blustering outside in the wee hours of the morning, but since my computer, phone, and TV were unplugged and all the windows were closed, I didn't worry about it. In the three years I've lived here, my first-floor apartment on the edge of Centro Historico has never flooded. 
Well. 
When I got up at 5:30, my feet hit the floor with a splash. Not quite awake, my brain couldn't register what was happening. I switched on the light and saw water rippling into the living room. The entire apartment was filled with about two inches of water: rugs soaked, cats up on the dining room table meowing in confusion. 
There was nothing to be done but switch gears for the day. I commiserated with a few friends through WhatsApp who were in similar situations and got to work.
Once an initial clean-up was completed, I made coffee and took it to the balcony, where there's a small but pretty view of the ocean and the malecón. The iconic oceanfront boulevard has drain grates that clog when water fills the nearby streets. I sat sipping my coffee, chuckling at drivers trying to navigate through water up to their car windows. 
Suddenly, a trio of taxi drivers came wading through the dirty brown water. They got to the drain and started pulling out the flotsam and jetsam blocking it: trash and plastic bags, handfuls of who-knows-what, big palm fronds. A car stalled; they laughed with the driver and pushed him slowly clear of the water. There was lots of splashing.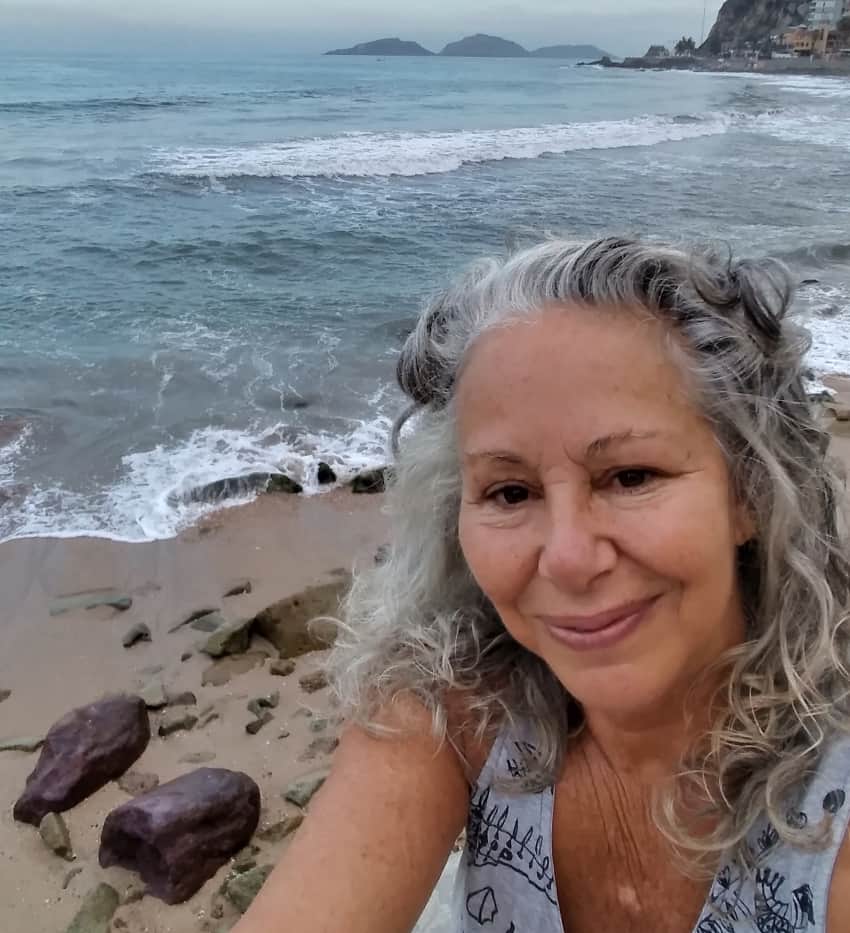 I was struck by their kindness and what we would call in the U.S. their "sense of community." Rather than wait hours for the city to take care of it, they took matters into their own hands and did what needed to be done, even though it meant sodden shoes and clothes drenched in filthy water. And they did it with smiles and laughter, the joy of "being in this together," for better, or in this case, for worse.
This sort of attitude is part of what drew me to move to Mexico; it felt kinder and more caring than the U.S. That's not to say I didn't love my life in Santa Cruz, California, or that I didn't have a big warm community there—I did (and to some degree still do). But here, I find more of an openness to interact, a more ready willingness to reach out and be in the moment, even with us foreigners. Another thing is that as a single older female, in the U.S. I'm often invisible. In Mexico, that's not usually the case. I'm acknowledged, assisted, and – dare I say – respected. My age is simply a fact of life, not something to be embarrassed by.
I think we are curiosities to our Mexican neighbors. With so much hype from the U.S. about it being "the greatest country in the world," they rightly wonder why we are here. In this new life, kindness and connection become essential because, as strangers in a strange land, we need as much help as we can get from wherever it can come from. I've learned to be humble and grateful and that sometimes all that's needed is a deep breath, eye contact, and a smile.
Lorena at the corner store is another example. I probably met her 15 years ago when I lived two doors down from her little store. To say that I quickly became a regular customer is an understatement. I could — and did –buy everything there, from one band-aid to a handful of cilantro to a round of delicious farm-fresh queso fresco. She introduced me to many things specific to Mexican cuisine and life in Mazatlán. She was a patient Spanish teacher as I stumbled with pronunciation, usage, and knowing the right word. Together, with lots of smiles and laughter, we figured out what we were trying to do.
It's the same with the vendors at the mercado where I do my weekly shopping, the owner of the pensión (lot) where I park my car, and the neighbor whose cat likes to sit on my balcony. All of them stretch out of their comfort zone to help me find a comfortable way to be – a comfortable me to be – in this new place I'm calling home.
Janet Blaser is the author of the best-selling book, Why We Left: An Anthology of American Women Expats, featured on CNBC and MarketWatch. She has lived in Mexico since 2006. You can find her on Facebook.