When it comes to talking renting, there are two caveats to start with. Firstly, no matter how much you read, you cannot anticipate everything that you might encounter as you look for housing in Mexico. Secondly, the issues that I bring up here do not apply to absolutely every situation. Mexico's housing market is just as varied as anywhere else. The point here, though, is to discuss issues that might surprise you as a foreigner.
When I came to Mexico 20 years ago, in the days before online work and Airbnb, the school that hired me set me up with a temporary place to live. That space was a godsend in the time it took me to get my bearings.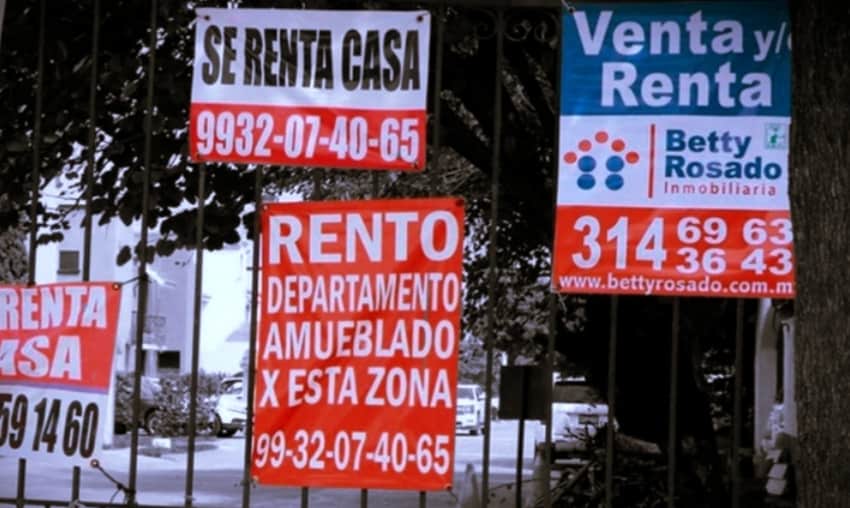 But many arrivals today don't have this luxury, so it's still important to get as much information and advice as possible.
Rent short-term first
This is by far the most important piece of advice anyone can give you. No matter what's on the internet, there's more you won't know until you get there.
Whatever you arrange for when you land, it should be for no more than three months — tops. It's possible that you might get lucky and love the place. In that case, you likely can negotiate something with the landlord: more than a few owners are just as frustrated with Airbnb as many renters are.
But you also need enough time to get your bearings in general and the get to know rental market in particular, and the typical hotel stay is not enough. 
Despite all the controversy about foreigners' role in gentrification, there are good reasons to live in places popular with them, at least at first. These neighborhoods tend to have landlords more willing to work with foreigners, you can network with the  local  expat community. The downside is that prices are going to be higher, and you'll likely have to compete with others for a place you want.
Where to find a place
Over the past decades, Mexicans have slowly adopted more e-commerce practices, although the landscape still isn't like the United States or Europe: the best deals on apartments are still found by walking neighborhoods looking for "SE RENTA" signs. The demise of physical newspapers, however, means that online advertising has become more accepted.
Airbnb remains the top source for first time rentals in Mexico and that may not change anytime soon. It has come under fire socially and politically, which has prompted some entrepreneurs in Mexico City to attempt various alternatives. Few have lasted for more than a handful of years. 
Even if your Spanish is only basic, you can browse other sites that will help you get a sense of rental rates in your chosen areas. These include Vivanucios, MetrosCubicos and InMuebles and handle both rentals and sales. They may have announcements for roommates, but better bets in that area are Dada Room and RoomGo.
But Mexico is a networking culture, not a one-stop shopping one, and connecting with people here is key for the best deals.
Although passé in some countries, Facebook and WhatsApp are still very useful sites both before and after arrival in Mexico. Facebook has a myriad of searchable groups for digital nomads and foreigners in specific cities and states, as well as groups specific to renting. WhatsApp is the most popular text messaging app; although not searchable, some valuable groups like CDMX Housing Search are hosted on the app.
Facebook and WhatsApp groups have a relative abundance of announcements of people subletting their apt for weeks or months. This might be an option if your arrival date is flexible and you're sure you can vacate at the end of the period.
Rental prices
I'm always bemused by social media posts that start off by asking how much it costs to rent a place in Mexico. I don't know why people assume there is a one-size-fits-all answer to this or a single website that will analyze your options for you. Neither exists. 
There are myriad of variables determining rental prices, but many are the same as just about anywhere else in the world:
Location, location, location: What is the socioeconomic level of the neighborhood? How close is it to attractions and services like markets and public transportation?

What is the overall condition/arrangement of the rental unit? Apartment or house? How many square meters? How many bedrooms? Is it furnished? 

Is it a condominium arrangement? How formal is that arrangement? Even townhouse/house subdivisions on the edge of cities are often condos.

Are there common areas or facilities such as a rooftop garden, a gyms, a pool?

How old is the building? Pro tip: older apartments in Mexico City tend to be larger than newer ones and often quite charming. The trade-off is the lack of modern amenities.

What is the overall condition of the building? Lack of care for common areas is a common problem.
Browsing online classifieds in the areas that interest you will give you some idea of the range of rates, but this takes a little time. Aside from higher rents in more desirable areas, one other constant seems to be that rental prices are constantly rising because real estate prices have shot through the roof. 
I, for example, bought my apartment in the working-class neighborhood of Doctores in a new condo building in 2008. At the time, the modest two-bedroom went for only 550,000 pesos, well within my means as a single English teacher with a decent full-time job. Today, that apartment is worth over three times that. I could not buy it now. And no, Doctores is not popular with foreigners, but it is centrally located in Mexico City. If you renew your lease, expect an increase each time of between 5-10%.
Even after all of that,  we haven't touched upon the quality of life issues that will not be obvious when you go and look at an apartment but are nonetheless important in determining if you can stay or not. We'll look at those issues in the next installment of this series. 
Leigh Thelmadatter arrived in Mexico over 20 years ago and fell in love with the land and the culture in particular its handcrafts and art. She is the author of Mexican Cartonería: Paper, Paste and Fiesta (Schiffer 2019). Her culture column appears regularly on Mexico News Daily.
Renting in Mexico? What to know before and just after arrival