A puppet whose name means "hope" in Arabic — and who is as tall as two refrigerators — has embarked on a journey through Mexico, her first Latin American stop on a global tour advocating for the rights of displaced children.
Little Amal was originally conceived as a representation of a 10-year-old Syrian refugee girl, albeit one who stands 3.7 meters (12 feet). Her designers say they drew inspiration from Mexican mojigangas, gigantic puppet-costumes made to sit on a dancer's shoulders during celebrations.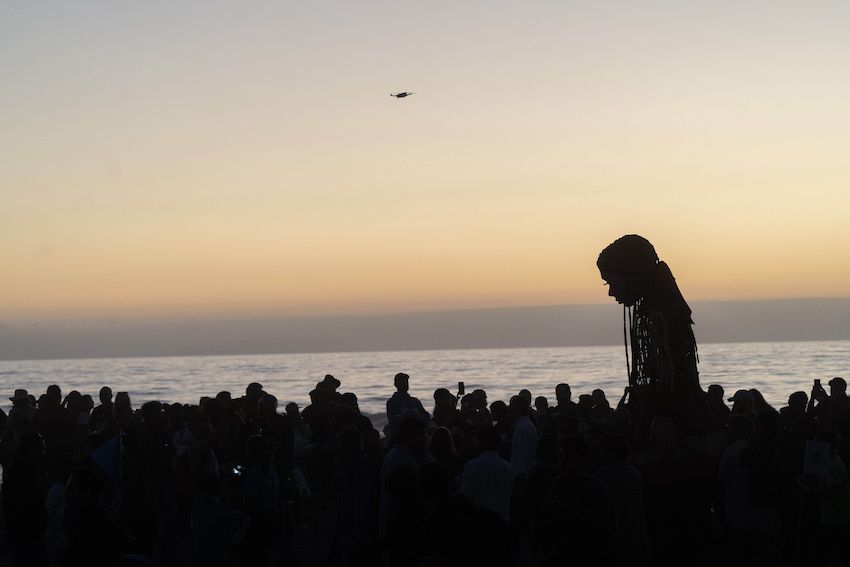 Amal's 14-country journey, which has already covered 9,500 kilometers across North America and Europe since 2021, aims to send poignant messages of tolerance and solidarity. She is a symbol of girls and boys who are refugees or displaced by war or international conflict. 
Amal arrived in Mexico on Nov. 6 via the El Chaparral border crossing into Tijuana. By the time her visit ends on Nov. 26, she will have visited Monterrey, Guadalajara, Zapopan, Mexico City, Oaxaca and Tapachula.
Her Mexico City stop, from Nov. 17 to 21, will include visits to the Chamber of Deputies, the National Autonomous University of Mexico (UNAM), the canals of Xochimilco, the Historic Center and the Los Pinos complex, the presidential residence 1934 to 2018. At the university, Amal will engage with UNAM's Youth Contemporary Dance Company and be featured in exhibitions and discussions about unity and the shared responsibility in addressing global migration issues.
Her final stop in Tapachula, Chiapas, will include a side visit to the Ciudad Hidalgo border crossing between Mexico and Guatemala, underscoring the ongoing struggles faced by the thousands of people who arrive from Central America each day. Each stop was curated to achieve interaction with diverse communities, from artistic groups to refugees, adolescents and children, and to foster awareness about the hardships faced by people, especially minors, forced to leave their places of origin.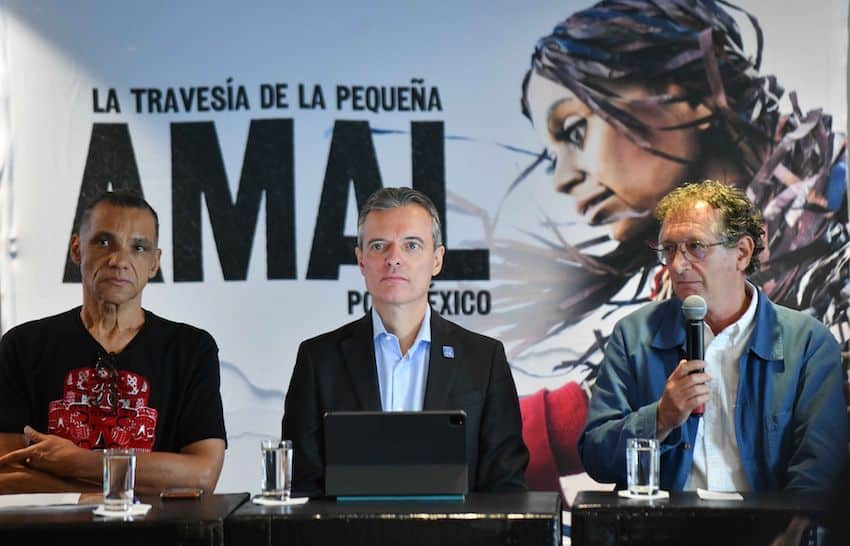 Her worldwide tour is titled "The Walk" and was crafted by The Walk Productions in the United Kingdom in collaboration with the Handspring Puppet Company in South Africa.
Amal's journey began in Turkey, a logical starting point considering the profound migratory impact of the Syrian Civil War, which has displaced more than 14 million Syrians since 2011.
In the United States, she visited 17 cities and many important sites, such as Selma, Alabama's Edmund Pettus Bridge, where the brutal Bloody Sunday beatings of the civil rights movement took place in 1965. In Boston, Amal stopped in Chinatown and danced with performers in lion costumes.
Her presence in Mexico is supported by various United Nations agencies, including the U.N. High Commissioner for Refugees (UNHCR), the U.N. Children's Fund (UNICEF) and the U.N. Educational, Scientific and Cultural Organization (UNESCO).
"Mexico, like the United States, is a country that has been shaped and impacted by a history of migration," said Amir Nizar Zuabi, artistic director of The Walk Productions. "In Mexico, Little Amal will share her message of hope with the Mexican people, as well as with migrants currently crossing the country, or with those of previous generations who have traveled across the border, in both directions."
With reports from El Economista, Aristegui Noticias and AP